[Home]
[Overview]
[Performance]
[Applications]
[Hardware]
[Software]
[Related Sites]
[Credits]
Overview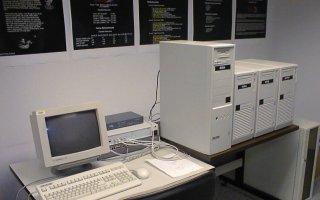 Configuration
The original JazzNet configuration consisted of a mixture of single and multiple-processor Pentium Pro PCs housed in five boxes: three single-processor machines (dizzy, parker, miles), one dual-processor (duke), and one quad-processor system (ella). The machines are running Linux 2.0 (with SMP support), and are configured with the dual-processor as the server. This mixture of machine configurations allows us to experiment with both distributed and shared-memory applications.
Original Configuration
We started with a Fast Ethernet hub (repeater) and a 5-node Myrinet network. The Fast Ethernet hub (repeater) delivers a point-to-point application bandwidth of about 5 MB/sec throughput, while the Myrinet switch offered about 17 MB/sec (both measured under LAM 6.1). (See the performance page for more details.)
We are now upgrading to include nine more machines (8 individual P6s, with one dual-processor server). We have also recently added a fast ethernet swtich and are in the process of conducting new measurements.
JazzNet II
The latency of the fast ethernet network is about 80us. We have measured point-to-point throughput of 5.5 MB/sec (application level, using LAM 6.1) for large (1MB) messages. This translates to sending a double precision number each 1.45us.