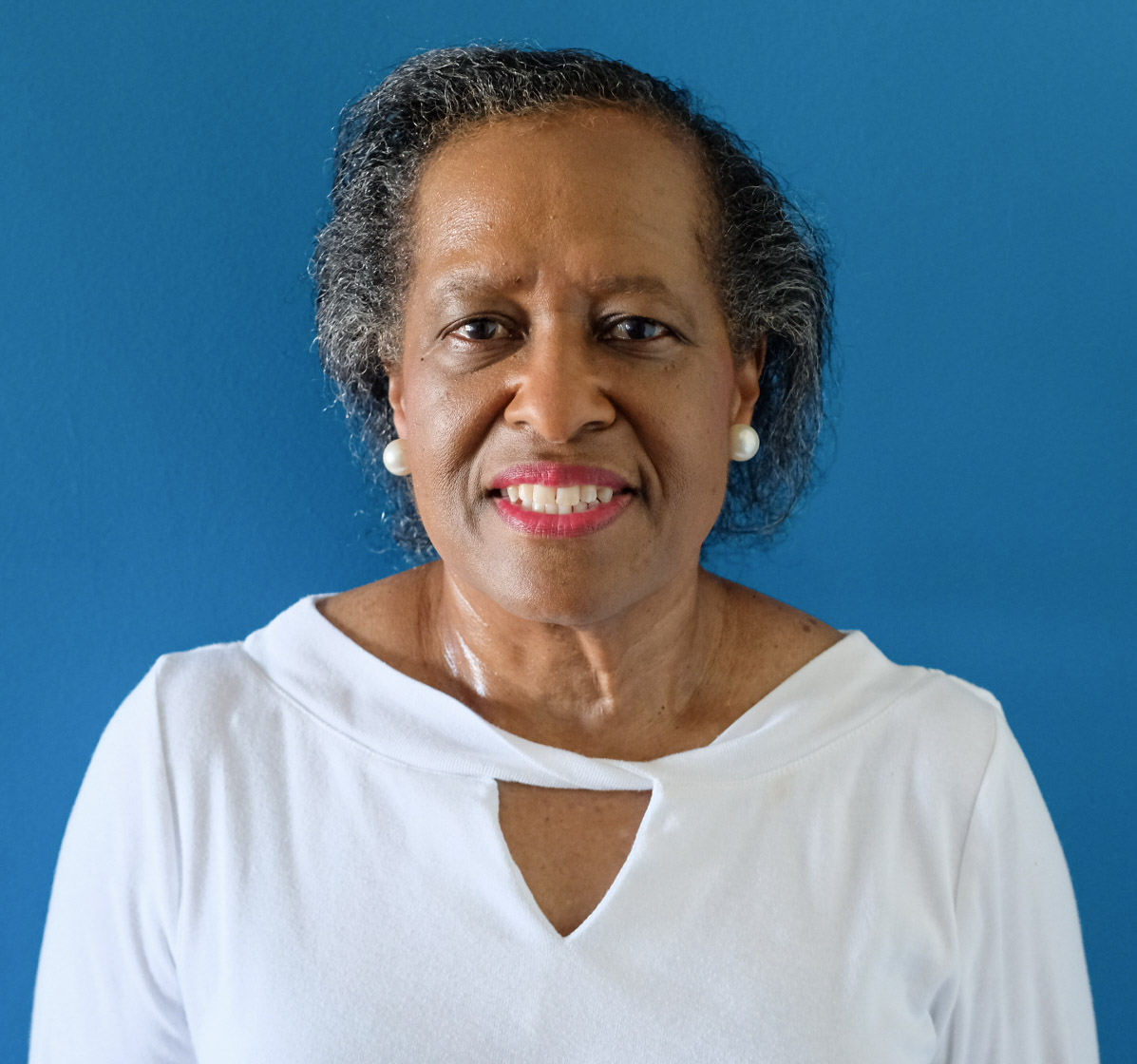 Bonita V. Saunders

National Institute of Standards and Technology

100 Bureau Drive, Stop 8910

Gaithersburg, MD 20899-8910 USA

Email : bonita.saunders@nist.gov

Phone : (301) 975-3836





---

Photo Credit: Jenee' Saunders

Current Position, 2022-present

Leader, Mathematical Software Group

Former Position, 1989-2022

Research Mathematician, NIST Applied and Computational Mathematics Division

Previous Affiliations

Programmer Analyst, BDM Corporation, McLean, VA, 1985-1989
Graduate Student Research Fellow, NASA Langley Research Center, Hampton, VA, 1983-1985
Instructor, Hampton University, Department of Mathematics, Hampton, VA, 1980-1982
Instructor, Norfolk State University, Norfolk, VA, Department of Mathematics, 1979-1980

Education

PhD, Computational and Applied Mathematics, Old Dominion University, Norfolk, VA, 1985
MS, Mathematics, University of Virginia, Charlottesville, VA, 1979
BA, Mathematics, College of William and Mary, Williamsburg, VA, 1977

Research Interests

Visualization of Complex Functions Data
Numerical Software for Special Functions
Numerical Grid Generation
Numerical Solution of Partial Differential Equations

Vita

Selected Publications

Selected Talks

Current Projects

DLMF Standard Reference Tables on Demand (DLMF Tables) - Project Leader
Joint project between NIST ACMD and Annie Cuyt's Computational Mathematics Group (CMA), University of Antwerp, Belgium. Goal is to provide an online software testing service that allows users to create tables of numerical values for special functions, with guaranteed accuracy to user-specified precision computed over parameters and arguments of the user's choice.

Digital Library of Mathematical Functions (DLMF) - Visualization Editor
Member of DLMF management team; also responsible for design, production and maintenance of 600+ DLMF graphs and visualizations. The DLMF includes formulas, methods of computation, references, and software information for nearly forty high level mathematical functions. It features interactive navigation, a mathematical equation search and dynamic interactive visualizations. The DLMF is the successor to Abramowitz and Stegun's NBS Handbook of Mathematical Functions with Formulas, Graphs and Mathematical Tables first published in 1964.

Visualization of Complex Functions Data
Design and development of numerical grid generation techniques and 3D web graphics to display accurate visualizations of complex functions. Goal is to facilitate the creation of DLMF graphs and visualizations while also developing mesh techniques and web technology for general use. See Viewing DLMF Interactive 3D Graphics for information on viewing the DLMF visualizations rendered in our default and recommended format, WebGL .

Previous Projects

Portable vectorized software for Bessel function evaluation
With Ronald F. Boisvert, developed a suite of computer programs for the evaluation of Bessel functions and modified Bessel functions of orders zero and one.

Fluids modeling, directional solidification
Worked on adaptive codes to assist in the modeling of the directional solidification of metal alloys. Studied effects of gravity moduluation on thermosolutal convection in fluids.

Professional Memberships

Society for Industrial and Applied Mathematics (SIAM)
Mathematical Association of America (MAA)
American Mathematical Society (AMS)
National Association of Mathematicians (NAM)
Association for Women in Mathematics (AWM)

Selected Professional Activities

Member, SIAM Board of Trustees (2020-present)
Associate Editor, Mathematics Magazine (2020-present)
MD-DC-VA Section Representative, MAA Congress (2019-2022)
Secretary, SIAM Activity Group (SIAG) on Geometric Design (2016-2018)
Webmaster/Mailing List Moderator for SIAG on Orthogonal Polynomials and Special Functions (SIAG/OPSF) (2000- )
Member, Selection Committee, SIAG/OPSF Gabor Szego Prize, (2018)
Member, MAA Business, Industry, and Government (BIG) national committee, (2012-2017).
Treasurer, MAA Maryland-D.C.-Virginia Section (1999-2002)
Member, Selection Committee, Etta Z. Falconer Lecture, Association for Women in Mathematics (AWM) and MAA (2004-2009)
Reviewer, NSF Presidential Awards for Excellence in Mathematics and Science Teaching (PAEMST), 7th-12th grade, (2013, 2015)
Reviewer, Journal of Computing and Information Science in Engineering (2009)
Participant, AMS Panel, Conversation on Non-Academic Employment, Joint Mathematics Meetings, Boston, MA, January 5, 2012.
Member, Advisory Board for Degree Programs in Mathematics and Statistics, American University, (2011-2015).
Member, External Advisory Council for the School of Computer, Mathematical and Natural Sciences, Morgan State University (2003)

Selected Honors/Awards

Research Leader, African Diaspora Joint Mathematics Workshop (ADJOINT) 2020, MSRI, Berkeley, CA, (virtual), June 15-26, 2020.
NIST Story Booth Interview in Celebration of 2020 Black History Month, 2020 Women's History Month.
Fellow, Washington Academy of Sciences, elected 2019.
Washington Academy of Sciences 2019 Award for Excellence in Research in Mathematics and Computer Science.
SIAM Visiting Lecturer, (2018- ).
2018 Black History Month profile, honored by Network of Minorities in Mathematical Sciences.
Featured on American Mathematical Society (AMS) Mathematically Gifted & Black poster (2018).
2017 NIST Information Technology Laboratory Outstanding Contribution Award for excellence in technical leadership.
Nineteenth Conference for African American Researchers in the Mathematical Sciences (CAARMS 19), featured speaker, San Diego, CA, (2013).
US Department of Commerce Gold Medal for Distinguished Achievement, (2011).
2001 National Association of Mathematicians (NAM) Claytor Lecture, Joint Mathematics Meetings, New Orleans, LA.
Willie Bee Rajanna Lecture, Morgan State University, ( 2006).
Sigma Xi Scientific Research Honor Society, NIST, (1995).
Phi Kappa Phi Honor Society, Old Dominion University, 1984.

Selected Outreach Activities

Speaker, Research in Computational and Applied Mathematics at NIST, Worcester Polytechnic Institute, Worcester, MA, April 18, 2019, SIAM Visiting Lecturer Program.
Representative, NIST ITL Applied and Computational Mathematics Division, Grace Hopper Celebration 2018, Houston, Texas, September 26-28, 2018.
Mathematics judge, Siemens Competition in Math, Science and Technology (2003-2017).
Chair, tutor, Virginia Strengthening Our Leaders (SOL) Tutoring Program, Alexandria, VA Boys & Girls Club, Northern Virginia Alumnae Chapter of Delta Sigma Theta Sorority, Inc. Provides tutoring and enrichment activities for at-risk students, grades 3-8. (2004- ).
NIST presentations, to Math SPIRAL students: Summer Program in Research and Learning - a multiyear summer program funded by NSF to bring gifted college sophomores and juniors from underrepresented groups to Morgan State University (2006- ).
Panelist, Student Careers in Business, Industry and Government, SIAM Annual Meeting, Pittsburgh, July 10, 2017.
Speaker, Exploring Possibilities at IPC, career talk at Infinite Possibilities Conference (IPC) 2012, University of Maryland Baltimore County, March 31, 2012.
Presentation, Career Day, Francis Scott Key Middle School, Silver Spring, MD, (2008-2011)
Mentor, Goals for Girls program, Gaithersburg Middle School, sponsored by Gaithersburg, MD chapter of American Association of University Women, (2007-2012)
Hosted NIST visit, George Washington University Summer Program for Women in Mathematics, (2008,2009)
Panelist, panel on non-academic jobs, George Washington University Summer Program for Women in Mathematics (2006,2007)
Also, I have written career essays, blog posts, and supervised several students in NIST internship programs. See below for more information!

Just for Students!
Last modified: September 15, 2022. Send comments and suggestions to Bonita V. Saunders (bonita.saunders@nist.gov).