!Converted with LaTeX2HTML 95.1 (Fri Jan 20 1995) by Nikos Drakos (nikos@cbl.leeds.ac.uk), CBLU, University of Leeds >
---
Next:
Effect of Natural
Up:
Materials Science Modeling
Previous:
Anisotropy in Properties
---
Richard J. Braun, Stephen A. Langer, and Geoffrey B. McFadden, ACMD
James A. Warren, Materials Science and Engineering Laboratory
John Bechhoefer, Simon Fraser University
The standard theory describing the shape instability of a moving nematic-isotropic interface during the directional ``solidification'' of a liquid crystal disagrees with experiment by a factor of 100. In a recent paper accepted for publication, Langer and Bechhoefer consider the stabilizing effect of the elasticity in the bulk nematic phase and conclude that while it reduces the discrepancy, it cannot fully account for the experimental observations. The disagreement between theory and experiment remains unexplained.
The standard theory models the interface as a zero-thickness free boundary where boundary conditions are applied and the position of the free boundary is found as part of the solution to the problem. A different model for this transition is now being studied where the interface between the two phases is allowed to have finite thickness. Finite thickness effects may be important because of the weakly-first-order nature of the isotropic-nematic transition; models of the interface thickness in this case show that the interface widens dramatically as the first-order nature of the transitions weakens. A finite interface thickness in phase-field models of solidification has shown a stabilization for short wavelengths in a recent paper by Braun, McFadden and Coriell. The widened interface may account for the remaining discrepancy between the experimental and theoretical results. The results of linear stability analyses of the interface for both types of models will be compared to verify this hypothesis.
The project members will take advantage of the expertise of the NIST staff in (a) stability analyses of both types of model and (b) liquid crystal physics to carry out this work. The experimental results will be supplied by Prof. J. Bechhoefer at Simon Fraser University.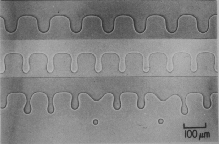 Figure 3: Three unstable nematic-isotropic interfaces. In each frame the nematic is growing upwards into the isotropic phase. The bottom frame has the highest growth velocity. Experiments were performed by J. Bechhoefer.

---
Next:
Effect of Natural
Up:
Materials Science Modeling
Previous:
Anisotropy in Properties
---