ITL Digital Math Library Project Receives NSF Award
September 1999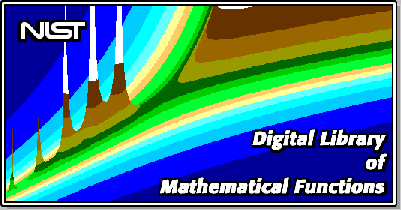 ITL's Mathematical and Computational Sciences Division has received substantial funding from the National Science Foundation to support the development of the NIST Digital Library of Mathematical Functions (DLMF). The NIST proposal entitled "Mathematical Foundations for a Networked Scientific Knowledge Base" was awarded $1.3M over three years by the NSF Knowledge and Distributed Intelligence (KDI) program with support from the Division of Mathematical Sciences and the Division of Information and Intelligent Systems. The NIST award was one of 31 given by the KDI program in FY 1999, and the only one awarded to a non-academic institution.
The DLMF will provide NIST-certified reference data and associated information for the higher functions of applied mathematics. Such functions possess a wealth of highly technical but critically important properties that are used by engineers, scientists, statisticians and others to aid in the construction and analysis of computational models in a wide variety of applications. The DLMF will deliver this data over the World Wide Web within a rich structure of semantic-based representation, metadata, interactive features, and internal/external links. It will support diverse user requirements such as simple lookup, complex search and retrieval, formula validation and discovery, automatic rule generation, interactive visualization, custom data on demand, and pointers to software and evaluated numerical methodology.
The DLMF was conceived as the successor for the NBS Handbook of Mathematical Functions (AMS 55), edited by M. Abramowitz and I. Stegun and published by NBS in 1964. AMS 55 is possibly the most widely distributed and cited NBS/NIST technical publication of all time. (The U.S. Govt. Printing Office has sold over 150,000 copies, and commercial publishers are estimated to have sold several times that number). The DLMF is expected to contain more than twice as much technical information as AMS 55, reflecting the continuing advances of the intervening 40 years.
The DLMF is being developed by a team of researchers in ITL and PL led by Daniel Lozier, Frank Olver, Charles Clark and Ron Boisvert. Additional support is being provided by MEL's Systems Integration for Manufacturing Applications (SIMA) program, TS's Standard Reference Data Program, and the ATP Adaptive Learning Systems program. NSF funding will be used to contract for the services of experts on mathematical functions to develop and validate the technical material which will make up the DLMF.